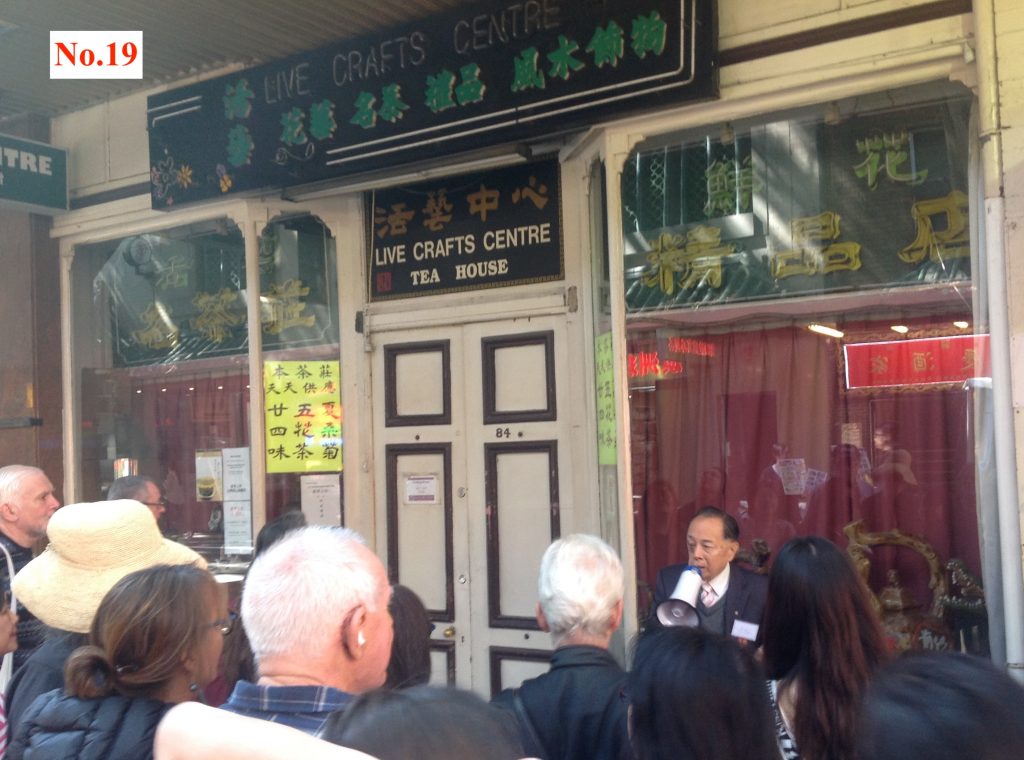 The buildings on 82 and 84 Dixon St, Haymarket, Sydney were erected in 1910 on land purchased by Phillip Lee Chun who then transferred his Kwong War Chong & Company into the 84 Dixon Street location.[1] The Kwong War Chong (廣和昌) had been established in 1883 in nearby Campbell St by several partners, including Phillip Lee Chun who had originally come to Australia in 1874. The store moved to 84 Dixon St in 1910 in order to be near the new city produce markets (Haymarket) where it operated as a general store and trading company until 1987.[2]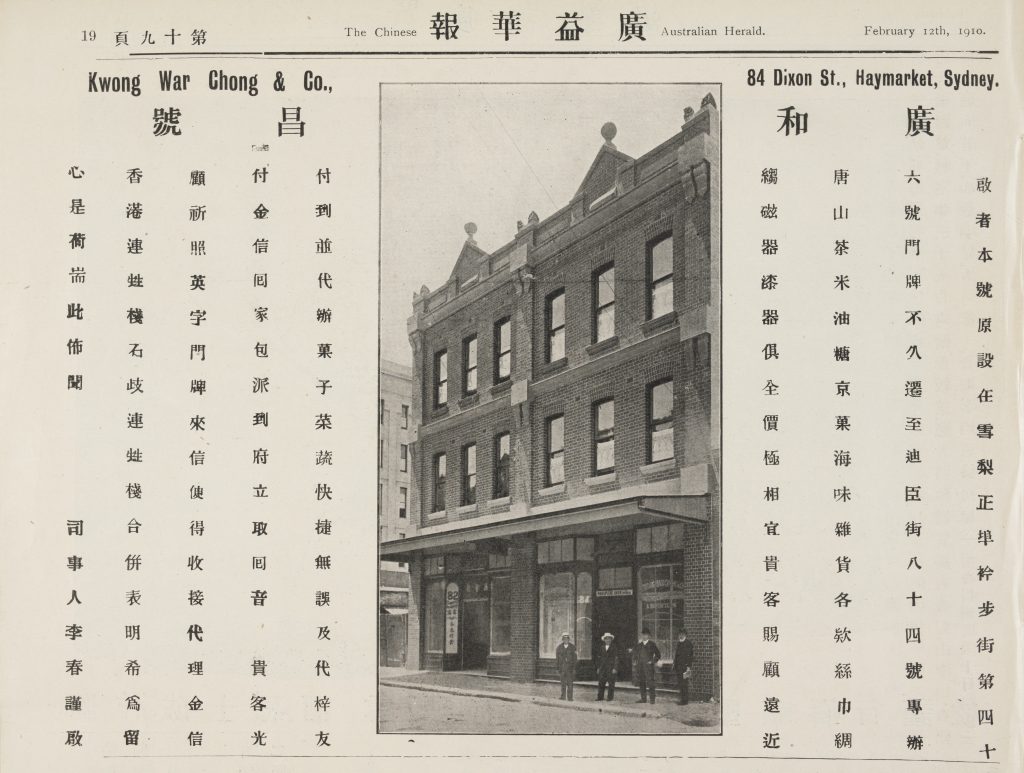 All the partners, except one, arrived in Sydney before 1902 and all except one had returned to China by the 1930s.[3] The sole remaining partner, Phillip Lee Chun was one of Sydney's most successful Chinese merchants, buying out his partners and converting it into a family business. The Kwong War Chong is an outstanding example of an overseas Chinese store; selling imported Chinese goods and foodstuffs to local Chinese market gardeners, acting as a distribution point for similar stores located throughout NSW and Queensland, and providing services such as dormitory accommodation and remittance transfers to its customers from the same local district in China – in this case the people of Zhongshan County. Sydney-based stores such as the Kwong War Chong were able to provide services reaching back to the villages of south China because they were part of a network of stores related by ownership and/or common partners in Hong Kong and the home districts.[4]
This link with a particular locality or county was essential to the operation of the store. It was not sufficient that the owner was 'Chinese' and sold largely to other 'Chinese'. Phillip Lee Chun was from Long Du (隆都), a small district within the County of Zhongshan in the Pearl River Delta region of China. (See No. 45) This meant that he could speak the Long Du dialect and had sufficient contacts to guarantee the transfer of remittances back to the villages and families of his customers. (See No. 29) In fact by the 1930s Phillip Lee Chun's connections were so successful that he had established not only connections with similar remittance stores in Hong Kong and Long Du, as was usual among overseas Chinese merchants, but had actually founded branch stores in both Hong Kong and the Zhongshan County capital of Shekki.[5]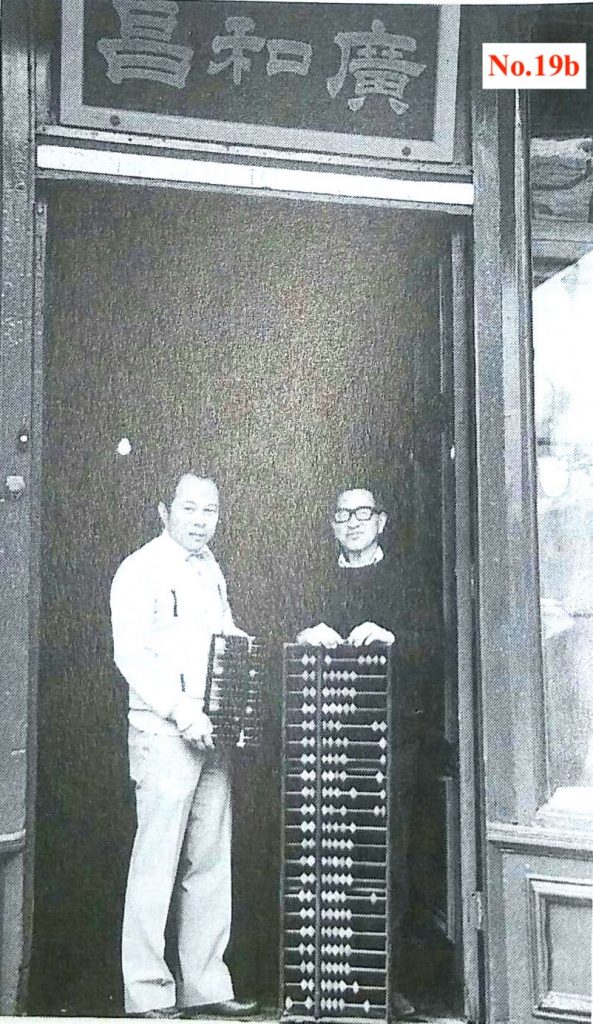 The Kwong War Chong also stocked the type of goods people might want to take back with them to the village, boiled lollies, Arnott's biscuits (plains not creams), umbrellas, shoes and tools. The Kwong War Chong and other stores also paid fares, purchased tickets, arranged Immigration Restriction Act paperwork (see No 1), provided accommodation and even lent money for the first remittance home, including a letter written by the firm's scribe if necessary. The stores also provided services for those members of the Chinese community who were from the same locality in China. While people could use stores run by those from other localities, for sending remittances and other services connected to their villages of origin, they would not have been useful.
The Kwong War Chong also hosted a Sunday lunch for Long Du market gardeners who would come in every Saturday to sell their vegetables at the markets and stay overnight at in the upstairs dormitories. This Sunday lunch was the sole recreation and opportunity for socialisation for many of the gardeners who lived the rest of the week on their gardens scattered around Sydney's suburbs.
In 2021 the two buildings at 82 and 84 Dixon St have been preserved from demolition and a community space proposed.
City of Sydney consultant's report on 82-84 Dixon Street, Haymarket
City of Sydney Development Application
Opening of Kwong War Chong widely reported in Sydney's Chinese language newspapers.
William Lee – one of Philip Lee Chun's many children.
---
[1] Much of the information following is based on the Office of Environment and Heritage report – 'Kwong War Chong Building' – The buildings at 82 and 84 Dixon St have recently been listed for heritage conservation by the City of Sydney.
[2] Interview with Norman Lee, Sydney, 25 September 1997 (1 & 10) and NAA (NSW), SP42/1; N59/3386, Kwong War Chong & Co., 'Particulars form', 30 October 1951.
[3] NAA (NSW), SP42/1; N59/3386 Kwong War Chong & Co., "Particulars form", 30 October 1951.
[4] The 'General Merchants' firm of Sun Sam Choy for example had 25 partners, only five were in Sydney, nine were in Newcastle, one in Glenn Innes, eight in Hong Kong and a further two in Canton. NAA (NSW), SP42/1; C29/48, Ping Fun, Certificate of Registration of a firm with the Registrar-General, Sun Sam Choy – General Merchants, no.3, 694, 5 June 1906.
[5] In Sydney, the Kwong War Chong (廣和昌), in Hong Kong, the Kwong War Fong (廣和丰) and the Kwong War Cheong & Co (廣和祥) was the branch in the county capital Shekki (石岐).