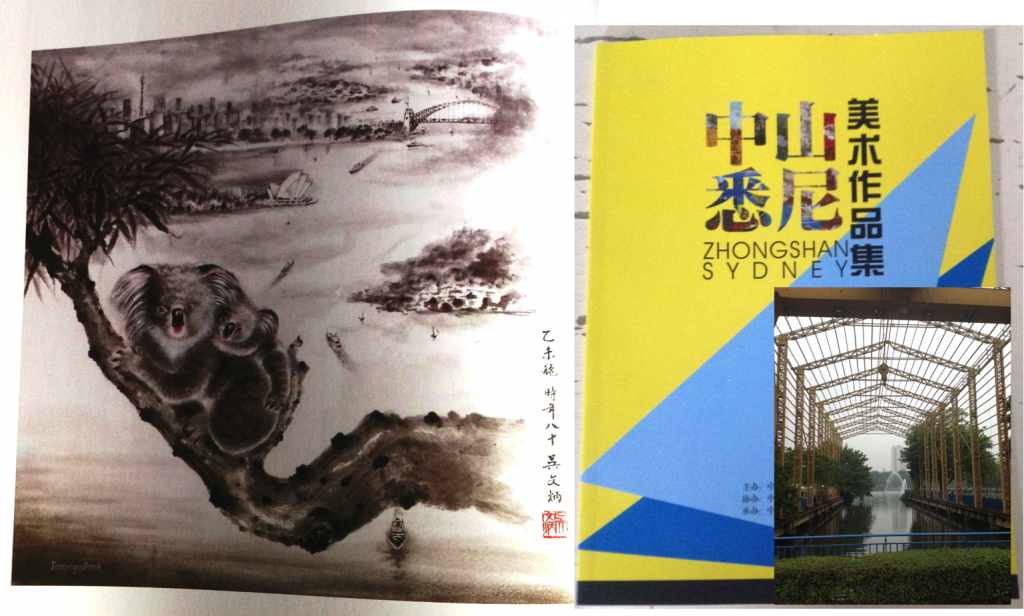 In 2015 a Wollongong based artist returned to his place of birth in south China to arrange a special exhibition of artists from both Sydney and Zhongshan. The result was a range of Sydney (and one Melbourne) inspired works by numerous Chinese-Australian artists. Many of these artists or their parents came originally from Zhongshan or at least south China.
This exhibition took place in the Zhongshan City Art Museum, which was once part of the Zhongshan shipyards, now turned into community use and parkland. This transformation of an industrial site into an art space mirrors in some respects the transformation in returnees from places such as Sydney to Zhongshan. Historically men left to work for many years in Sydney and elsewhere, sending money home and eventually returning to their families in the village. Sometimes children born in Australia would be sent to the family in China to ensure they learnt Chinese while children in China sometimes came to Australia to learn English or take up work in their turn.
In recent times it is more likely for the whole family to settled in Australia with any links to China being more economic, based on jobs or investment. However art and culture is also an increasingly important link as Chinese-Australians use their roots in two cultures to inform their art. The Zhongshan-Sydney art exhibition of 2015 is just one example of this increasingly significant aspect of Chinese-Australian history.