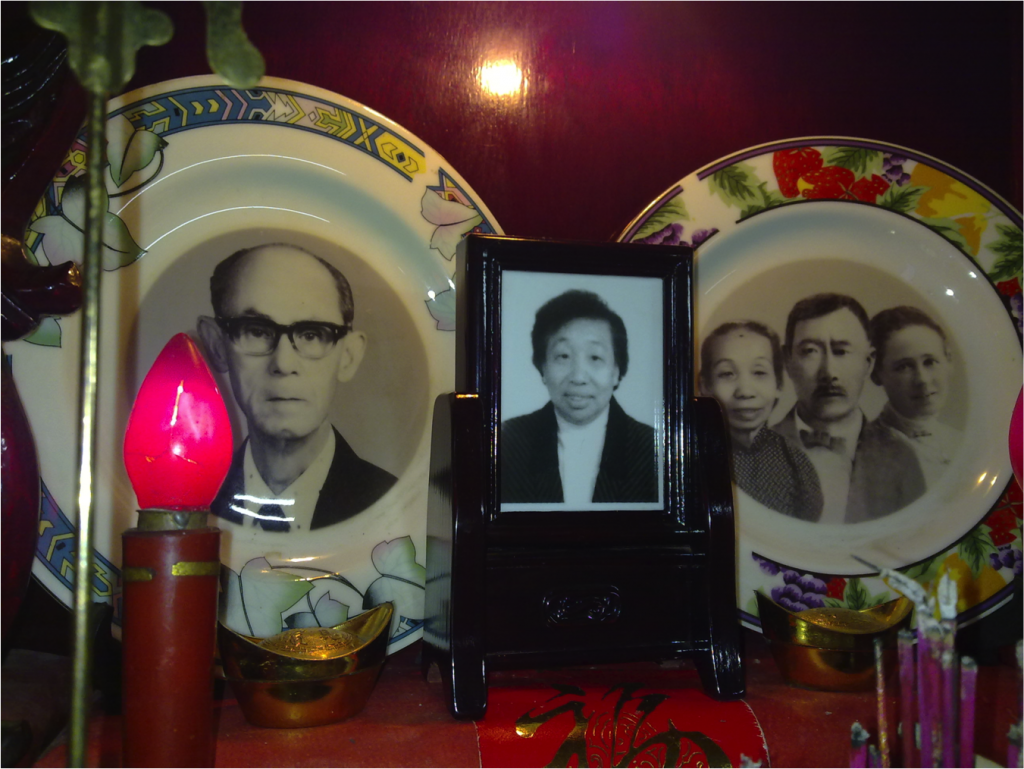 In the home of the Sui family in the Guangdong (廣東) capital Guangzhou (廣州市) is an altar on which is set up images of various departed ancestors. Such ancestor shrines are common in houses throughout China and this one is different only in that some of the ancestral images have been printed from photographs onto ceramic plates. The family and their plates moved to Guangzhou from the village of Nam Wen (南文), Zhongshan (中山). (See No.7, No.14 & No.21)
On the plate to the right side is an image of a well-dressed man flanked on either side by a woman, while the plate on the left displays the image of a single elderly bespectacled man. In between these plates is a more usual framed photo of an older woman. Altogether the images make up a not unusual family group but they also tell a story of interwoven families across time and continents that while not unique is one often forgotten even by the families themselves.
Thus, Siu Chiuh Fong or Joseph Sin is flanked by his two wives, Chan Sui Fong and Annie Moran. His first wife was the Irish born Annie Moran from Central Queensland where she married Joseph while he worked as a market gardener. After her death he married Chan Sui Fong in Nam Wen, Zhongshan County. Joseph Sin, like many who left Nam Wen and similar villages throughout the Pearl River Delta, did so to help maintain his family in the village by working overseas and sending remittances. This he did, returning to visit on at least three occasions over the course of a working life in Australia and during one of which in 1912 he took with him two sons – Tom and Joseph – from his marriage with Annie.
It is this second Joseph who appears in the plate on the left. Joseph Sin junior remained in Nam Wen village, unlike his brother Tom who returned to Australian after a short time. Joseph did eventually leave however after the change of government in 1949 and made his way to nearby Hong Kong where he stayed for several years before being granted permission to enter Australia as an Australia-born person. On doing so Joseph made his way to Queensland where he re-introduced himself to the Australian side of his family. Much to the surprise of his great nephew Warren Kinne who, until Uncle Joe's arrival, had not known he had any Chinese ancestry. (See No.72)
Warren was most intrigued to discover his Chinese Great Grandfather and subsequently made a number of trips to visit the family in Nam Wen. On these trips he found not only the ancestor shrine with the plates picturing his relatives, but also that, unlike his Queensland family, the China-based family was very familiar with all branches of the family in both China and Australia. This knowledge of family relations including an extensive jiapu or genealogy (see No. 48) that takes the family links back to the Song Dynasty of the 12th century.
See also Zhongshan 8